Our Story
"Llullu Llama" means baby llama in Kichwa – for us Llullu Llama sure is our little baby!
We dreamt of starting a hiker's lodge somewhere in Ecuador for a long time, just because we love nature, spending time in the outdoors, and the laid back vibe of the hiker's scene.
We also wanted to give something back to the world, something small but powerful. We wanted our children to grow up learning about nature and culture; we wanted to give them a place where they could learn how to share.
We were looking for a place in a beautiful natural landscape and with beautiful people surrounding us. We also wanted a place to escape to for a couple of days to recharge from our busy city lives in Quito.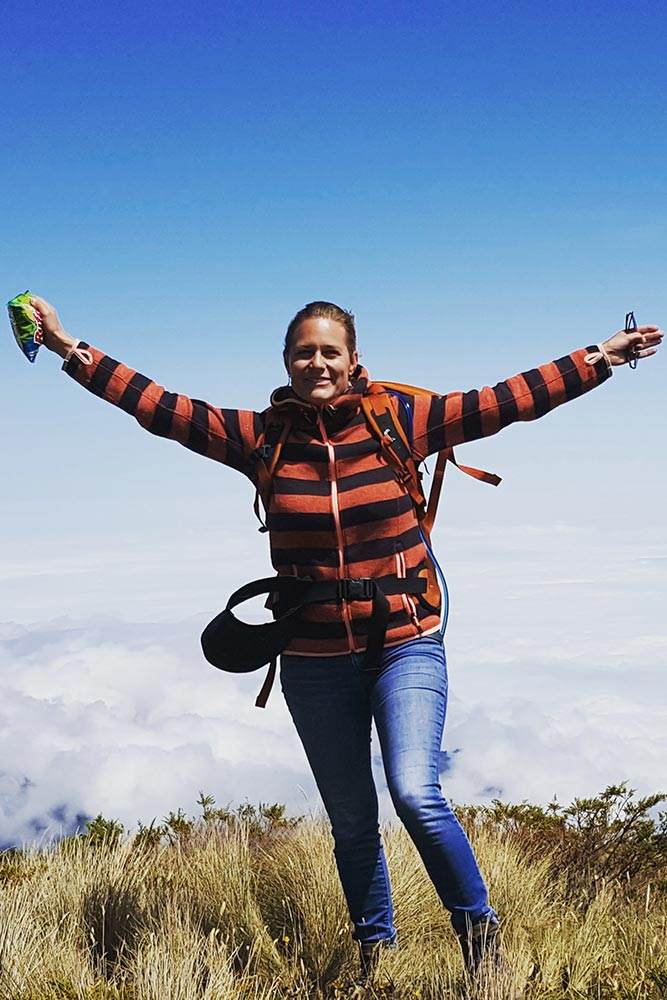 We have something that fits for everyone!
So, when we took over the hostel back in 2014 our vision was simple – we wanted to create a lovely and warm place to stay and have our guests enjoy the amazing surroundings and learn about Ecuadorian culture. We also wanted delicious and healthy locally sourced food, a cozy atmosphere, and a warm welcome for our guest (and a sauna for pure relaxation and well-being)!
Our challenge was to make the hostel grow without being a burden for the planet and at the same time we also wanted the community to grow along with us and benefit from our investments and community work in Isinlivi.
We think that with the guidance of our lovely staff members, our advisors, neighbors, volunteers and friends who all care about the world and people, we are heading into the right direction. We strive to make Llullu Llama Mountain Lodge an inspiring and warm place!
Our project still inspires us every day! We still have our busy city lives, but grab every opportunity we have to come to our little paradise in Isinlivi. We are determined to make continuous improvements, smart investments, creative decisions and we hope that our little baby lama will grow into a strong and healthy big lama one day!
Eva & Cristian
Cristian– Founder & General Manager
Holds a degree in Human Resources and Business Management. Is fully dedicated to Llullu Llama, usually busy answering your emails, making reservations, organizing staff and accounting of the lodge. Loves meeting new people from all over the world and is a passionate soccer player!
Christian – Administrator
Christian Torres ensures the proper in-house functioning and develops new ideas. He takes care of all the shopping for the kitchen, coordinates our volunteers, and make the accounts. He loves making hikes with Baloo, and enjoys trying artisan beers while listening to music.
Eva – Founder & Community Projects
Eva was born in Holland and has lived in Ecuador for the past 15 years. Holds a degree in Cultural Anthropology and Development with a specialization in Ecuadorian culture and gender. Her passion is helping people. She is in charge of the Community Fund and wants to improve the Eco-friendly practices at the lodge.
Gladys – Chef
Gladys has always had a passion for cooking! She loves creating new dishes and surprising our guests with her healthy soups, homemade marmalades, and freshly baked pies. When guests compliment her, she will show you her red cheeks and a beautiful shy smile!
David – Cleaning & Maintenance
For two years, David has been a full time member of our team. When he's not doing maintenance of housekeeping work at Llullu Llama, you'll find him working his own land and taking care of his farm animals. He loves making jokes and making laugh our team.
Maria – Cleaning & Kitchen
Maria started working with Llullu Llama in 2015, learning all the tricks from Gladys in the kitchen and doing housekeeping. Maria loves to eat and you'll often find her laughing and chatting with the ladies in the kitchen!
SENAYDA – Kitchen & Bar
Senayda is the youngest member of our team. She just graduated from high school in Isinlivi and is now gaining her first working experience! She's a bit shy, but very sweet!
EVELYN – Cleaning & kitchen
Evelyn is just 18 years old, lives close to the cheese factory and mother of a sweet baby boy. Llullu Llama is her first formal working experience helping out in the kitchen and with cleaning.
Don Oswaldo – Local Guide
He is a real hero, must have hiked the trails in the surrounding mountains over a hundred times! He likes to learn a new foreign words every day and will happily teach you some Spanish while guiding you through amazing mountain landscapes and introducing you to local myths and stories.
TATIANA – Customer Service
Tatiana from Quito is in charge of making sure you have a great experience here at Llullu Llama! She is an avid mountain lover and can give you great advice for activities in Isinlivi! She speaks perfectly English and even some Kichwa!
SAUL – Customer Service
Saul is from the community of Tanicuchi! Recently graduated as a Hotel Manager, he is in charge of making your experience a good one! He's also a great photographer and a bird lover – ask him about the birds around Isinlivi! Saul's dream is to own his own hotel one day!
Messias & victor – Drivers
Victor and Messias are always ready to help out with transportation of tourists on the Quilotoa Loop or to the city of Latacunga. They both studied at the Don Bosco Center in Isinlivi where they learned carpentry. Messias has his own carpentry in Sigchos. Victor, invested in professional bikes and now runs several great biking adventures for our guests!
Baloo & Tito – Best Friends
Baloo is the biggest and friendliest dog you'll ever meet! He will greet you with a happy wagging tail, but watch out for his kisses as these tend to be a bit sticky! Tito the Lama is a bit more serious, eating the whole day and watching peacefully over the surrounding mountains.