Holistic wellbeing
Spa & Yoga – a perfect combination to nourish your body, mind & soul!
Llullu Llama's atmosphere invites you to connect with your inner self and with the spirits of the magical mountains. The village of Isinlivi is so peaceful and charming, you will immediately feel at ease. Llullu Llama is like an oasis inside the majestic mountains of the Andes – a place to recharge your energies & receive all the good vibes of the Pacha Mama!
We encourage you to enjoy our wellness activities.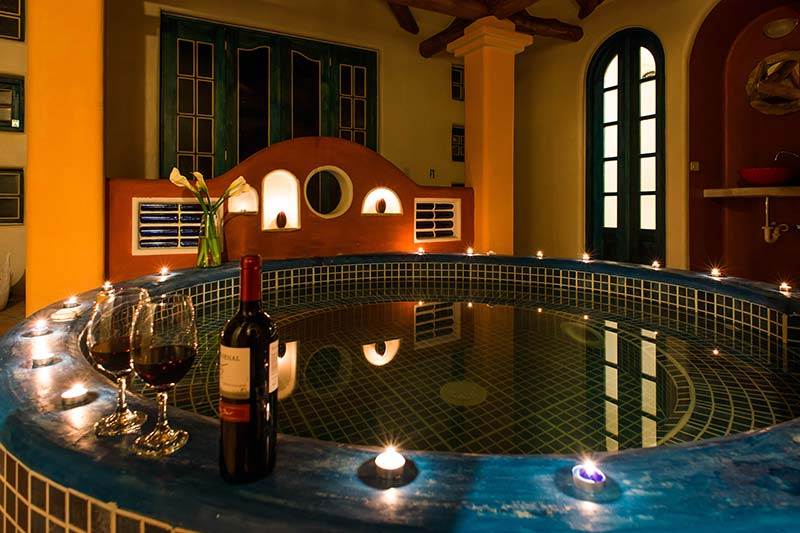 Llullu llama Spa
Our heaven of tranquility
With its far reaching views over the beautiful green mountains and gardens, the Llullu Llama Spa is a quiet, contemplative almost spiritual place. Built with natural materials in the form of the Inca Cross.
The indoor Jacuzzi right in the middle of the Llullu Llama Spa is natural stone filtered and solar power heated. Soak your aching muscles in water heated to the perfect temperature and gaze out over the Andean landscape – your host can bring you a glass of wine…eco has never felt so good!
Experience pure relaxation of body and soul in our Steam Sauna or Dry Sauna – relaxation time for you to just "be", to lie and ponder the beauty of your surroundings, and to quiet your mind and let go of stress. The clean fresh smell of eucalyptus will harmonize your energies.
We highly recommend using the Spa area just after a day hike to relax your muscles or after dinner to get warm before a good night sleep. Enjoy the Jacuzzi with a group of friends, or book a private Spa session for your honeymoon or a special occasion.
Spa facilities
Steam sauna
Dry Finnish sauna
Solar heated Jacuzzi for up to 8 people
2 Toilets
2 Showers
Beautiful soft lighting in the evenings
Bar service
Outside terrace to cool down after sauna or sweat room
ARRANGE A PRIVATE SPA SESSION
A completely private Spa session can also be arranged at a total price of $20 per person – including a glass of wine, rose petals, and candles. Ideal for a honeymoon or a special occasion. Let our staff know with at least 3 days' notice via an email to
Llullu llama Yoga Studio
Start your day in the mountains filled with energy, strength & happiness!
Our Yoga studio is an ideal space to practice yoga, a warm spot with natural sun light and inspiring views to relax and feel grateful for the beauty that surrounds you. There is no better way to start off your day than with an energized body, a clear mind and open heart.
Join one of our classes or feel free to use our Yoga Studio for your own private yoga or meditation practice.