Your mountain view escape on the Quilotoa Loop
Immerse yourself in the heart of the Andes. ¡Discover it's magical geography, culture & traditions!
LLullu Llama Mountain Lodge is the perfect spot for nature lovers and hikers. Our eco oriented lodge was created inside an original more than 120 years old farmhouse preserving its cultural and historical heritage. Imagine far reaching mountain views at every moment, a cozy fireplace to keep you warm, delicious llocally sourced food and the best Jacuzzi ever! Everything you need to get ready for your next day's adventure in the highlands!
Llullu Llama offers you serenity and a chance to escape from life's fast pace, to slow down and truly enjoy nature!
Strategic & unique location
Your central headquarter to explore the Cotopaxi region – an essential stop on the Quilotoa Loop trekking route
Llullu Llama Mountain Lodge is located in the picturesque village of Isinlivi, just two and half hours from Quito. Our village boasts the very best Andes views and the surrounding area is peppered with tiny highland villages, canyons, rivers, and forests.
The perfect spot for shorter and longer mountain hikes. Located at an altitude of 2870m, it is an excellent place to get acclimatized, offering softer and warmer weather conditions compared to other higher altitude villages on the Quilotoa Loop.
How to get here
Attractions close to the Lodge
EXPLORE OUR LOCATION AND OUR STUNING SURROUNDINGS
You don't need to be an experienced hiker or seasoned world traveler to hike the Quilotoa Loop. If you are in good shape, love to walk and have sense of adventure, you can make this dream a reality! Our friendly and professional team is here to help you plan your adventure.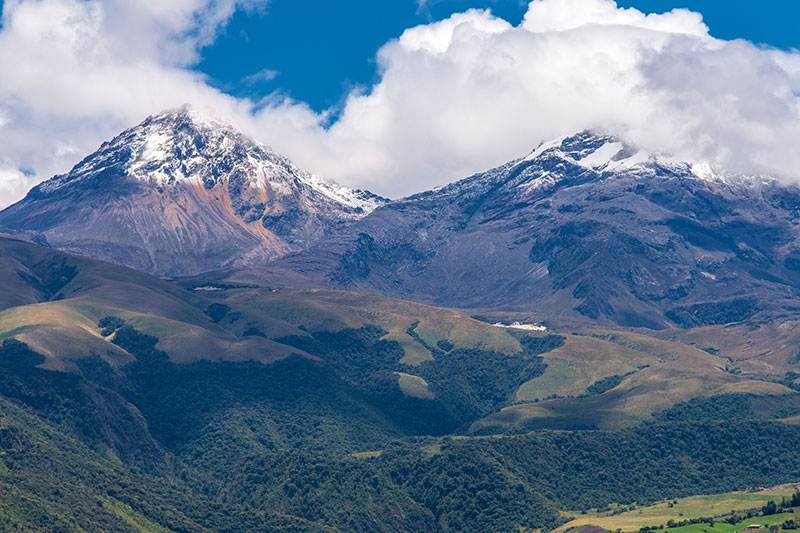 1 Don Bosco Wood Workshop Inside the village of Isinlivi there is a beautiful wood workshop, run by an Italian missionary group. This social development project has supported our community since the 70's and is well worth a visit.
2 Guingopana Pass & Paramo Ecosystems A 20 minutes ride over a pre-Colombian road, takes you to the impressive Guingopana Pass at 4000m. Literally stand on top of the Cordillera Occidental! Look West, and you'll see the Illinizas and Cotopaxi volcanoes; look East, and you'll enjoy the stunning paramo landscapes of the Quilotoa Loop.
3 Isinlivi Cheese Factory A 45 minutes hike up the hills behind Isinlivi, takes you to the beautiful cheese farm of Señora Magaly Hernandez, her family has been making fresh cheese for over 45 years.
4 Quilotoa Crater Lake Just an hour and a half drive away, you reach the impressive Quilotoa Crater Lake (3914m /12,841 ft) – an emerald colored lake inside a huge caldera formed by the collapse of the volcano following a catastrophic eruption more than 800 years ago.
5 Cotopaxi National Park Just an hour and a half by car northeast of Isinlivi, lies the Cotopaxi (5,897m, 19,350 ft), a perfectly conical stratovolcano – one of the world's highest active volcanoes!
6 Illinizas Ecological Reserve The Illinizas Ecological Reserve protects a surface of 149,900m surrounding the Quilotoa Loop, encompassing the Quilotoa Crater Lake, the Corazon volcano, the Cerro Azul and of course the stunning twin peaks of Illinizas Norte and Illinizas Sur volcanoes, reaching altitudes of more than 5100m.