Llullu llama
Ecuadoria mountain lodge
Discover ancient indigenous cultures and dramatic Andean landscapes on your Ecuador trekking adventure along the Quilotoa Loop!
Read more
Welcome to Llullu Llama Mountain Lodge
Your eco lodge in the heart of the Andes – right on the Quilotoa Loop!
Llullu Llama Mountain Lodge is a small eco-friendly lodge situated right on Ecuador's most famous trekking route, the Quilotoa Loop. Built in local style, and in harmony with community & environment, the lodge is surrounded by impressive volcanoes, breathtaking mountain views, traditional highland villages and friendly indigenous people.
A perfect spot for nature lovers and hikers. Our unique atmosphere will make you feel as welcome as you would be in the house of a long held friend. A great place to make new friends and share travel stories!
Read more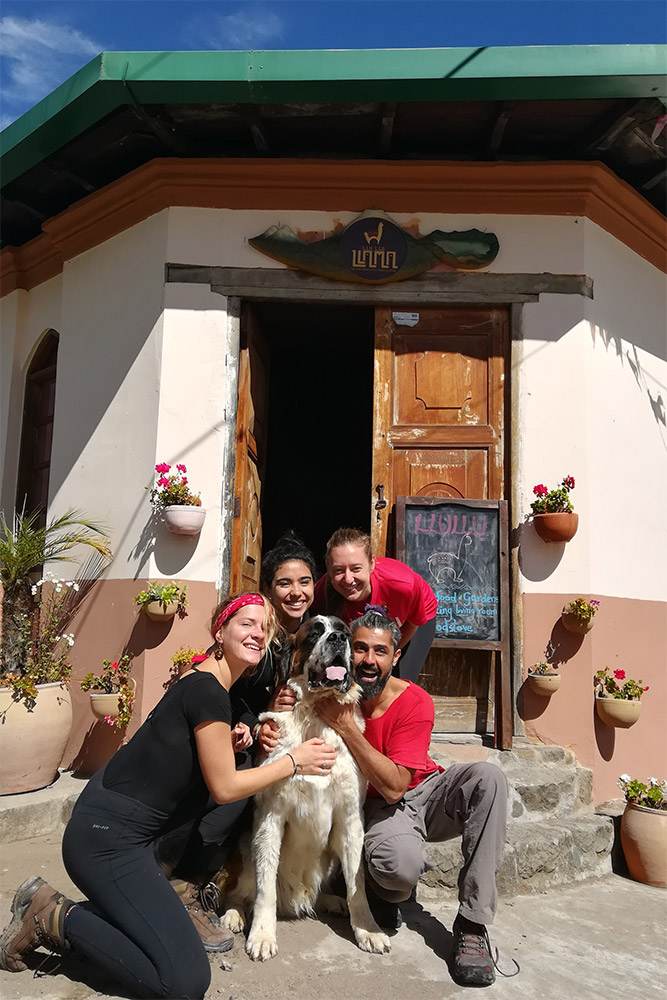 The lodge
A stay at Llullu Llama Mountain Lodge is not just a holiday, it's a whole experience!
We welcome a wide range of travelers from all over the world: backpackers, families, and romantic couples are all easily accommodated. We offer cozy dorms, private rooms, and exclusive garden cottages for the adventurous nature lover.
We also offer free hiking information, a variety of local activities, a relaxing Jacuzzi and sauna, delicious food & the best happy hour ever!
First time on the Quilotoa Loop?
If you are new to trekking & the Quilotoa Loop, you've come to the right place!
You don't need to be an experienced hiker or seasoned world traveler to hike the Quilotoa Loop. If you are in good shape, love to walk and have sense of adventure, you can make this dream a reality! Our friendly and professional team is here to help you plan your adventure.
Special offers
EXPLORE THE WONDERS OF THE COTOPAXI PROVINCE AT YOUR OWN PACE. STAY MORE NIGHTS & GET A BETTER DEAL!
Llullu Llama Mountain Lodge is located in the tiny village of Isinlivi in the Cotopaxi Province, a beautiful and strategic location to base yourself to explore the Ecuadorian Andes. You will truly enjoy the diverse day hikes, adventure activities and cultural programs we have created for you. Village life and the friendly locals, will touch your soul. The longer your stay – the better your experience!
0% OFF

1 Night

5% OFF

2 Nights

10% OFF

3 Nights

12% OFF

4 Nights
Discounts apply over published rates for accommodation only and cannot be applied in combination with other price discounts or Llullu Llama package rates.
Get your best deal
Community Involvement
HELPING OUR COMMUNITY IS OUR PASSION
We believe that tourism can have a positive impact on the local population. Our idea is: if Llullu Llama grows, our community should grow together with us. Therefore we have set up a Community Fund, which is used to support local initiatives. Creating jobs for locals and applying a strict "buy local" policy are also amongst our objectives.
Read more
Reviews
The highlight of the Quilotoa Loop!
There is an amazing sense of community with everyone crowding around the fire with a glass of wine at night to trade stories and everyone had tips for us on our next destinations. The village of Isinlivi has so much heart too and we loved talking to the apprentices at the artisan woodworking company, Don Bosco. Llulu Llama is a MUST STAY for anyone doing the Quilotoa loop!
Noelle E. from the USA
Spectacular Setting!
Nestled on a hillside in Isinlivi, Llullu Llama is a great place to stay, one which caters to a wide range of travelers. Backpackers, families or romantic couples are all easily accommodated in hostel facilities and private cottages that have spectacular mountain views.
R. Pigeau from Canada
Magical Place in the Andes
Stayed 3 nights in this wonderful hostal. Our cottage with mountain views was so tranquil, with its wood burning fireplace, balcony, wood beams and interesting glasswork in the windows. Our provided breakfasts and dinners were delicious and wholesome. The staff were very friendly and helps us organize some local activities.
William F. from Canada
Our favorite hostel in Ecuador
We really did not expect to find such a well-designed, cozy, homely and welcoming place to stay up here in the quiet village of Isinlivi. Fireplaces, wooden floors, comfy sofas, an excellent home-cooked three course dinner around a table with fellow hikers, amazing views, piping hot showers, the best breakfast offering we've had in South America, and excellent maps for the next day of hiking.
Alongdustyroads from England